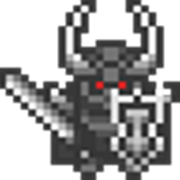 The 
Death Knight
is one of the strongest monsters in BrowserQuest. It is found only in the lava mountain, where it guards the
Skeleton King
's lair. They will spawn continually around the King.
Damage and Health
Edit
Death Knights do between 26 and 45 damage to unarmored players and have about 150 health.
Even though they appear larger and stronger versions of Spectres, they do less damage.
Ad blocker interference detected!
Wikia is a free-to-use site that makes money from advertising. We have a modified experience for viewers using ad blockers

Wikia is not accessible if you've made further modifications. Remove the custom ad blocker rule(s) and the page will load as expected.