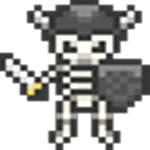 Greater Skeletons
are
skeletons
wearing armor.
They also carry a Dagger, although they will drop the Magic Sword or Plate Armor.
They appear in the desert area, and sometimes caves.
They are quite powerful, and should be taken care of quickly.
Ad blocker interference detected!
Wikia is a free-to-use site that makes money from advertising. We have a modified experience for viewers using ad blockers

Wikia is not accessible if you've made further modifications. Remove the custom ad blocker rule(s) and the page will load as expected.