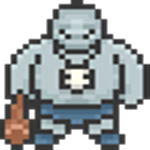 Ogres
are powerful monsters found in the
Wilderness
and beyond, though not in the
Lava Mountains
. They wield a large club, though they do not drop it upon death, and do 12-20 damage to an unarmored player. It is advised to have at least the
Mail Armor
while fighting them.
Ogres past the Wilderness (in the Desert) may drop the Morning Star and Plate Armor. Before the Desert, they only drop Health Potions.
Ogres have about 100 health.
Three Ogres guard a cave in the Wilderness that is the only way to progress. This is a great time to get the Coward Achievement.
They walk slightly slower then the player.
Ad blocker interference detected!
Wikia is a free-to-use site that makes money from advertising. We have a modified experience for viewers using ad blockers

Wikia is not accessible if you've made further modifications. Remove the custom ad blocker rule(s) and the page will load as expected.