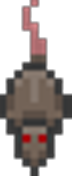 Rats
are small, gray, enemies that appear in the town, near the spawn, and forest areas, and are usually the first enemies you encounter. They are quite weak, dealing 4-9 damage with a melee attack on an unarmored player and are virtually easy to kill. They remain sort of passive, only attacking if provoked first.
Rats sometimes drop Rat Burgers, along with Health Potion.
They are one of the weakest mobs in the game, and appear in large quanties near the orignal spawn point.
Ad blocker interference detected!
Wikia is a free-to-use site that makes money from advertising. We have a modified experience for viewers using ad blockers

Wikia is not accessible if you've made further modifications. Remove the custom ad blocker rule(s) and the page will load as expected.