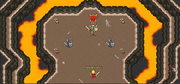 The Skeleton King is the first and only boss of BrowserQuest. It is found in the final level of the Lava Mountains, where it is surrounded by its Death Knight guards. When killed, it will drop the Gold Sword, whereas the Gold Armor can be found in a chest. Unlike most enemies, it attacks you even if you aren't standing near him. This makes going AFK in his arena - especially alone - very deadly.
Damage and Health
Edit
The Skeleton King does about 80 damage to unarmored players and has about 300 health.
Ad blocker interference detected!
Wikia is a free-to-use site that makes money from advertising. We have a modified experience for viewers using ad blockers

Wikia is not accessible if you've made further modifications. Remove the custom ad blocker rule(s) and the page will load as expected.